Sclerotherapy treatment of abnormal veins
is the injection of a medication into the veins, which irritates them and causes them to stick together. Over time the veins will disintegrate. Each treatment lasts 20-30 minutes. Please allow 20-30 minutes to go for a walk after treatment. 
There are different types of sclerotherapy offered – both for large, and small veins. Further information will be provided to you at the time of your consultation if this treatment is recommended for your individual needs.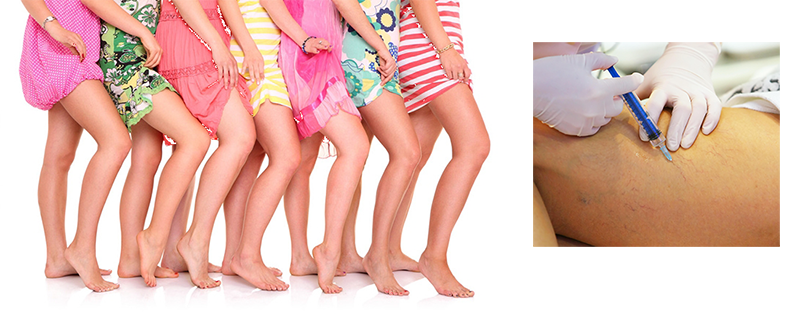 What should I know prior to treatment?
Please do not apply lotion to your legs the day of treatment.
Avoid hot baths, showers, hot tubes/saunas for 2-7 days following treatment. 
Do not do any heavy weight lifting until you see Dr. Lutwick for your follow up, during which time you can inquire on this issue. You will have a follow up appointment a couple weeks following treatment. It is normal for the treated area to appear bruised for several weeks. 
You will be provided with a consent form to be reviewed and signed prior to first treatment. Please discuss any questions or concerns you may have with the nurse or doctor prior to signing. 
Compression stockings must be ordered before booking appointment. Please remember to bring them with you to wear following treatment.
Sclerotherapy is a non-surgical office procedure that treats spider veins and varicose veins. A very small needle is used to inject a medicated solution into the veins causing them to close down. They are gradually reabsorbed by the body.
An important part of the treatment regime is the use of compression stockings. They improve the effectiveness of sclerotherapy treatment by approximately 25%. There are many benefits of using these stockings immediately after treatment as well as at other times when your veins may be under increased pressure.
Not everyone is a candidate for sclerotherapy. A consultation is the first step to finding out if this is the best treatment for you. You can get a referral to our clinic from your family physician. At the consultation one of our certified fitters will measure you for compression stockings and go over how to apply and care for them. The doctor will review your medical history and an exam will be performed. The doctor will discuss your treatment options and further arrangements will be made if sclerotherapy is the choice for you.
There are a few things that will make the treatments more effective: do not use ibuprofen or aspirin 2 days before treatment, do not shave your legs, do not use any creams or lotions on your legs and bring shorts.
Prior to treatment you will have an opportunity to ask any questions and express any concerns. Treatments can take up to 30 minutes and you could require up to several treatments. You can expect some bruising and perhaps some little "bee-sting" type lesions at the injection site. These lesions improve quickly, however the bruising will last longer.
After treatment we recommend you wear the stockings daily - the length of time will be determined by the severity of your condition. A follow-up appointment will be scheduled for 2-3 weeks time. All post treatment instructions will be reviewed before you leave our office.
After the initial set of treatments, some clients choose to return to the clinic at regular intervals, perhaps annually, to maintain the appearance of their legs.